We are very proud to share the certification Fair For Life received for our subsidiary Roman Chamomile from Piedmont region in Italy. The supply chain was initiated in 2015 with a family of farmers-processors with who we have worked for the last 40 years. We're very happy to continue today with the fourth generation!

This certification cemented our actions in favor of a sustainable supply chain, lead by our partner and our sourcing team: to continue human relationship, the regeneration of the resources and economic viability.
Fair For life is a certification standard for fair trade and responsible supply-chain, based on 3 commitments:
Respect of human rights and fair working conditions
Our partnership with our historical farmer-processors is based on the valorization of good practices, the securing of the sector, the contribution to the diversification of the outputs and co-products, in the respect of a fair pricing policy and decent working conditions.
Respect of the ecosystem and promotion of biodiversity, sustainable agriculture practices
Respect for the environment is at the center of our partners' Roman Chamomile farming practices. They do not use herbicides or pesticides and agronomic tests are being carried out to eliminate fertilizers. The consumption of water and energy resources is optimized at the level of the factory, for example its supplied by solar energy.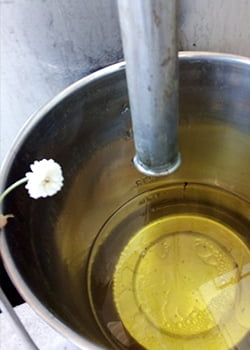 Respect and betterment of local impact
With this label we are committed to the implementation of a fair, structured project, including the development of our partners' skills and the improvement of agricultural practices to move towards organic agriculture. These actions are financed by a development fund fed by Albert Vieille and which directly benefits the producers.
This fair trade approach is one more step in line with Albert Vieille's raison d'être. We have the ambition to have other independent partner producers in Piedmont, with whom we work and who collaborate in a spirit of sharing their know-how and good practices, Fair For Life certified.